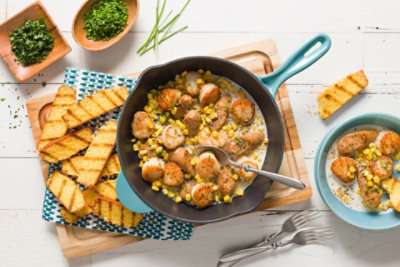 Southern Skillet Buttery Beer-Glazed Scallops
Recipe Courtesy of Chef Ryan Scott - Buttery, beer-glazed, and we bet it's better than your mother's scallop recipe! Pair these golden, tender and tasty morsels with Open Nature® Gluten Free Cornbread for an easy and tasty, well-rounded dinner!
Total original price
* Estimated price based on adding all ingredients to cart.
Main
1-pound bag Open Nature® Wild Caught North Atlantic Sea Scallops, defrosted (see Helpful Hints)
4 tablespoons Lucerne® butter, divided
1/2 teaspoon Signature SELECT™ salt, divided
1 tablespoon Signature SELECT™ Worcestershire Sauce
1 bunch Cilantro, washed, leaves only
2 teaspoons Kosher Salt, or to taste
Cooking Instructions
Step 1
Preheat the cast-iron skillet over a high flame. Once the pan is hot, add 1 tablespoon of butter. As soon as the butter has melted, add the scallops. Season the scallops with 1/4 teaspoon of salt and 1/8 teaspoon of ground pepper. Cook the scallops undisturbed over high heat for 1-2 minutes, until they have a nice golden crust. Flip the scallops and cook on the other side for an additional 1-1 ½ minutes. Remove the scallops from the pan and set them on a plate to rest.
Step 2
Add the sausage chunks to the pan and cook for 2 minutes to brown over high heat. Reduce the heat to medium-high and add the shallots and frozen corn. Cook for an additional 3-4 minutes, stirring occasionally until the corn has started to blister and the shallots have cooked and become translucent.
Step 3
Add the beer and stir with a wooden spoon or spatula, being sure to loosen any bits that have stuck to the bottom of the pan. Let the beer simmer until it has reduced by about half, 3-4 minutes. Add the heavy cream and the remaining 1/4 teaspoon of salt and bring just to a boil. Turn off the heat and add the remaining 3 tablespoons of butter. Swirl the pan to work the butter in slowly, creating an emulsion. Once the butter is completely incorporated, sprinkle in half of the chopped herbs and stir to combine. Return the scallops to the pan, turn them to coat in sauce, and sprinkle the remaining chopped herbs over the dish. Serve with Open Nature® Gluten Free Cornbread, sliced, and grilled for a perfect vessel to mop up all of that delicious sauce!
Step 4 :: Helpful Hints
Optional: 1 box Open Nature® Gluten Free Cornbread, made according to the box, baked and cooled, to serve with scallops.
Step 5 :: Helpful Hints
Don't overcook the scallops! Scallops, like all fish, cook incredibly quickly. Over high heat, these guys only need 1-2 minutes per side. Cooked scallops should still feel a little soft and just a little "bouncy" to the touch, not rubbery or firm.
Step 6 :: Helpful Hints
Do not defrost the scallops more than a couple of hours before using; the best and easiest way to defrost them is to cut the top off the bag and let cold water run in and out of the bag for 10-15 minutes. Once defrosted, blot them dry and keep them on a paper towel-lined plate or baking tray in the fridge until cooking time.
Step 7 :: Helpful Hints
Swap Option: Don't like scallops? Try peeled and deveined shrimp; just cook them an extra minute or two per side. This recipe would also work well with chicken thighs if you are unable to eat shellfish. Just be sure to brown the chicken really well on both sides before proceeding with the rest of the recipe.
All recipe ingredients should be cooked to a safe internal temperature according to USDA guidelines. After preparing a recipe, please store any leftovers in the refrigerator.