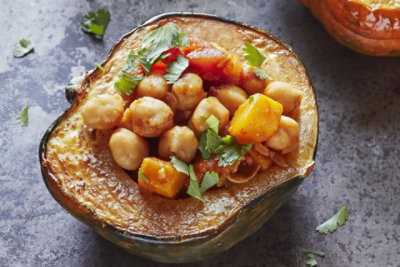 Moroccan Chickpea-Stuffed Acorn Squash
Think of this dish as a meatless tagine served in a squash bowl. Kabocha, sweet dumpling or carnival squash make good alternatives to acorn squash. To make this side a hearty vegetarian meal, serve 2 halves each.
1 hour, 15 mins
Total cook time
Total original price
* Estimated price based on adding all ingredients to cart.
Main Ingredients
4 acorn squash (about 5 pounds total), , halved lengthwise, seeds removed
3 tablespoons canola oil, , divided
¾ teaspoon salt, , divided
1 3-inch cinnamon stick, , broken into pieces
2 tablespoons coriander seeds,
1 teaspoon cumin seeds,
1 teaspoon paprika,
1 teaspoon smoked paprika,
½ - 1 teaspoon cayenne pepper,
¼ teaspoon ground turmeric,
1 cup finely chopped onion,
4 medium cloves garlic, , finely chopped
3 cups cubed winter squash (1/2-inch), such as kabocha or butternut,
2 15-ounce cans chickpeas, , rinsed
1 14-ounce can diced tomatoes,
1¼ cups water,
¼ cup finely chopped fresh cilantro,
Cooking Instructions
Step 1
Preheat oven to 375°F. Coat a large rimmed baking sheet with cooking spray.
Step 2
Cut a small slice off the bottom of each squash half so it will sit nicely when stuffed.
Step 3
Brush the insides with 1 tablespoon oil and sprinkle with 1/4 teaspoon salt. Place the squash cut-side down on the prepared pan. Bake until tender but still firm, 40 to 45 minutes.
Step 4
Meanwhile, finely grind cinnamon stick, coriander and cumin seeds in a spice grinder or mortar and pestle. Tap the mixture into a small bowl and stir in paprika, smoked paprika, cayenne to taste, turmeric and the remaining 1/2 teaspoon salt.
Step 5
Heat the remaining 2 tablespoons oil in a large pot over medium-high heat. Add onion and garlic and cook, stirring often, until starting to brown, 3 to 5 minutes.
Step 6
Stir the spice blend into the onion and add cubed squash; cook, stirring, for 30 seconds. Add chickpeas, tomatoes and their juice and water. Bring to a boil. Reduce heat to maintain a gentle simmer, cover and cook, stirring occasionally, until the squash is tender but still firm, about 10 minutes. Stir in cilantro.
Step 7
Fill each baked squash half with about 1 cup of the chickpea stew.
All recipe ingredients should be cooked to a safe internal temperature according to USDA guidelines. After preparing a recipe, please store any leftovers in the refrigerator.