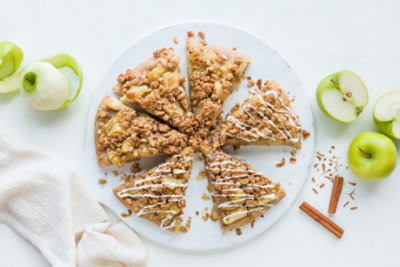 Apple Crisp Pizza
Dessert pizza really hits the sweet spot, and this apple crisp version is no exception! Pick up some of the ready-to-use pizza dough in our deli and some fresh apples from the produce section to make this delicious pizza the family will love.
1 hour, 30 mins
Total cook time
Total original price
* Estimated price based on adding all ingredients to cart.
Main
3 cups apples, sliced then cut slices in half
1/2 cup apple juice
1 teaspoon apple pie spice blend
1 teaspoon vanilla paste or extract
16-ounce bag Signature Café White Whole Wheat Pizza Dough
1/4 cup whole wheat flour
1/2 teaspoon ground cinnamon
1/4 cup Lucerne whipped butter
1/2 cup light cream cheese
1/2 cup powdered sugar
2-3 tablespoons milk
Cooking Instructions
Step 1
Preheat oven to 400-degrees. Add the apples, juice and apple pie spice in a medium nonstick saucepan and over medium heat, bring it to a boil. Reduce the heat to a gently boil and let it cook for about 20 minutes. Stir in the vanilla paste and set the mixture aside.
Step 2
On a large sheet of parchment paper dusted with about 1 tablespoon of flour, roll the pizza dough out (dusting the top with another tablespoon of flour) with a rolling pin into a circle about 11-inches wide. Place the parchment paper on a baking sheet. Spread the cooled apple mixture evenly over the top.
Step 3
Add the brown sugar, oats, 1/4 cup whole wheat flour, and cinnamon to a mixing bowl and beat on low with a paddle attachment to blend well. Add the whipped butter, broken into teaspoon sized pieces into the mixing bowl and blend on low until the mixture resembles coarse crumbs. Spread this over the apples as evenly as possible.
Step 4
Bake for about 18 minutes (check the underside of the pizza crust to make sure it is nicely browned. Remove from the oven.
Step 5
In a mixing bowl, beat the cream cheese, powdered sugar, vanilla and milk on low speed until a creamy mixture forms. Drizzle this over the Apple Crisp Pizza as desired with a spoon or squeeze bottle. Cut into slices and ENJOY warm or cold!
All recipe ingredients should be cooked to a safe internal temperature according to USDA guidelines. After preparing a recipe, please store any leftovers in the refrigerator.