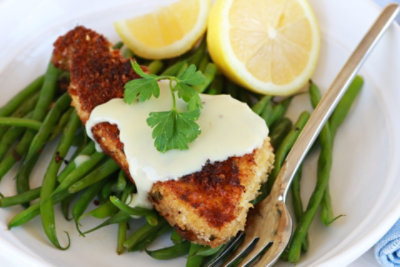 Fast Italian-Style Fish with Even Faster Lemon Sauce
Fit for any type of fish, our Fast Italian-Style Fish is quick and delicious! We love the lemon sauce, made with lemon curd—it elevates the dish to restaurant quality. Garnish with lemon slices and a sprinkle of parsley.
Total original price
* Estimated price based on adding all ingredients to cart.
Main Ingredients
1 1/4 pounds fish (halibut, sea bass, sole etc.) (skin removed and cut into 4 servings)
1 1/2 cups Signature KitchensTM Italian-style Panko Crispy Breadcrumbs
1 1/2 teaspoons O Organics® ground sage
2 teaspoons Old Bay Seasoning (or similar)
2 large eggs (beaten)
4 teaspoons O Organics® extra virgin olive oil (canola oil can be substituted)
Sauce
2 tablespoons lemon curd (on the shelf with jam)
3 tablespoons fat-free half and half (or low-fat or whole milk thickened with 1 teaspoons cornstarch)
1 tablespoon finely chopped Italian or regular parsley (optional)
Cooking Instructions
Step 1
Pat the fish fillets dry with paper towels and set aside. If your fillets are particularly thick (more than an inch), consider cutting them in half lengthwise. In medium bowl, whisk together breadcrumbs, sage, and Old Bay seasoning. 
Step 2
Begin heating a large nonstick skillet over medium-high heat (if your stove runs hot use medium heat). Dip the fillet in the egg wash and then the crumb mixture, making sure it is well coated. Add the olive oil to the skillet and after about 30 seconds place the fillet in the skillet. Quickly repeat these steps with the remaining fillets. When all are in the pan, coat the tops generously with cooking spray.
Step 3
Cook until the bottom of the fillets are golden brown (about 4 minutes), then flip fish over and cook about 3 minutes more, or until the fish flakes easily and is cooked throughout. Remove to a serving dish and cover with foil to keep warm while you make the sauce.
Step 4
In a small nonstick saucepan, combine the lemon curd and half-and-half or thickened milk (stir the cornstarch into a tablespoon of milk then stir in the remaining 2 tablespoons of milk) and bring to a gentle boil over medium-low heat, stirring constantly with whisk for 1 minute or until smooth and slightly thickened. Remove from heat.
Step 5
Drizzle a tablespoon of lemon sauce over each serving of fish. Sprinkle with a pinch or two of parsley if desired.
All recipe ingredients should be cooked to a safe internal temperature according to USDA guidelines. After preparing a recipe, please store any leftovers in the refrigerator.