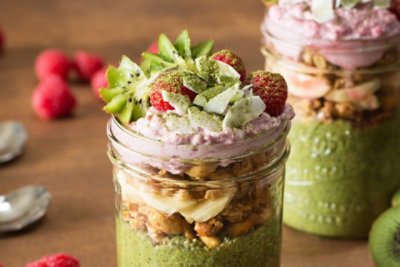 Matcha Power Parfait
Matcha Power Parfait - Power up your day with this perfectly balanced fresh parfait! This wholesome snack will give your body what it is craving, packed with raw energy and bold flavor.
8 hour, 10 mins
Total cook time
Total original price
* Estimated price based on adding all ingredients to cart.
2nd layer
1/4 cup pure coconut granola or your favorite granola
1/2 fresh banana (chopped)
3rd layer
2 tablespoons coconut cream (from a can of full-fat coconut milk)
4-6 fresh raspberries
1/2 teaspoon O Organics™ honey
Toppings
chopped kiwi chunks
fresh raspberries
shaved coconut
1st layer
3/4 cup coconut milk
2 tablespoons chia
1 teaspoon matcha
1 scoop vanilla protein powder
Cooking Instructions
Step 1
In a medium glass jar, stir in the coconut milk, chia seeds, matcha, and protein powder, until everything is well combined and no clumps. Cover and refrigerate overnight. 
Step 2
In the morning, add 2 tablespoons granola on top of the beautiful green mixture. Then sprinkle on chopped banana, topping it with the other 2 tablespoons of granola. 
Step 3
In a small glass, mash the raspberries and honey with the back of a fork. Using the fork, gently whip in the coconut cream, until a pretty pink color appears, with striations of the raspberry seeds. Add the raspberry-coconut cream mixture to the top of the jar, and then sprinkle on fresh chunks of kiwi, more raspberries, shaved coconut and a sprinkle of matcha powder. Enjoy! 
All recipe ingredients should be cooked to a safe internal temperature according to USDA guidelines. After preparing a recipe, please store any leftovers in the refrigerator.