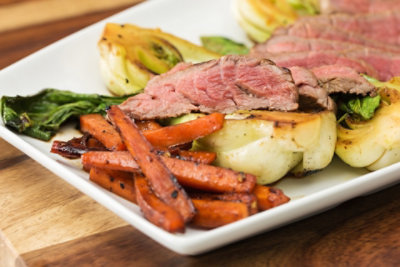 Sesame Steak with Baby Bok Choy
When slicing your Sesame Steak make sure to cut against the grain! This will make it easier to cut and make the meat more tender.
Total original price
* Estimated price based on adding all ingredients to cart.
Main Ingredients
1 lb top round steaks
3 Tbs soy sauce
2 tsp sesame oil
3 Tbs rice wine vinegar
1 Tbs sugar
1/2 tsp red pepper flakes
2 inch piece of ginger root (grated)
3 garlic cloves (minced)
2 teaspoons vegetable oil
3 carrots (cut into 3-inch matchsticks)
1 lb baby bok choy (cut in half)
Cooking Instructions
Step 1
Place steak on counter in a gallon sized zip-top bag. In a medium bowl, mix to combine soy sauce, sesame oil, vinegar, sugar, red pepper flakes, ginger and garlic. Pour one half of marinade into zip-top bag with steaks. Reserve remaining sauce. Let steak marinade for 10 minutes.
Step 2
Preheat a cast iron pan on medium-high heat for 3-4 minutes. Add 1 teaspoon oil and heat until pan begins to slightly smoke, about 1-2 minutes. Add steak and sear for 2 minutes. Flip and sear 2 more minutes. Remove from heat and tent with foil.
Step 3
Add 1 tsp of vegetable oil to pan, followed by carrots. Sauté 1-2 minutes. Push to the side of the pan and add baby bok choy. Sauté 1 minute and flip. Pour 1/2 of reserved sauce over vegetables and stir. Continue cooking for 1-2 minutes, until vegetables are caramelized. Pour remaining sauce over vegetables. Remove from pan. 
Step 4
Thinly slice steak and serve with vegetables.
All recipe ingredients should be cooked to a safe internal temperature according to USDA guidelines. After preparing a recipe, please store any leftovers in the refrigerator.