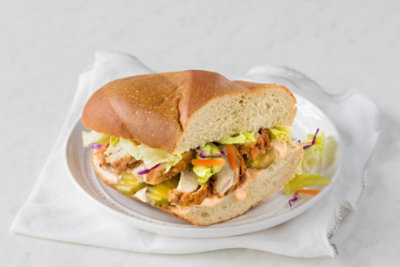 Spicy Chicken Sandwich with Nashville Style Dressing
Try this quick and easy take on the classic spicy fried chicken sandwich with trending Nashville style hot sauce! This is a simple, delicious recipe that you can put together in just 15 minutes.
Total original price
* Estimated price based on adding all ingredients to cart.
Spicy Chicken Sandwich
2 pieces Signature SELECT™ breaded chicken patties cut into slices
4 slices Signature SELECT™ artisan French or Italian bread
1 cup Signature Farms® lettuce mix
1/2 cup spicy mayonnaise (see below)
8 pickle chips
Nashville Style Spicy Mayonnaise
1/2 cup Signature SELECT™ mayonnaise
1/2 teaspoon cayenne pepper
1/2 teaspoon paprika
1/4 teaspoon garlic powder
1/2 teaspoon salt
1/2 teaspoon black pepper
Cooking Instructions
Step 1
Cut bread loaf into slices.
Step 2
Prepare spicy mayonnaise. Combine ingredients together and reserve.
Step 3
Spread onto slices.
Step 4
Arrange sliced chicken on half the bread and place lettuce and pickle chips on other half.
Step 5
Dress with additional spicy mayonnaise.
Step 6
Fold together, spear with sandwich pick, slice on diagonal and enjoy.
Step 7 :: Helpful Hints
If you like prefer spicier food, add more cayenne or your favorite hot sauce to the spicy mayonnaise.
All recipe ingredients should be cooked to a safe internal temperature according to USDA guidelines. After preparing a recipe, please store any leftovers in the refrigerator.