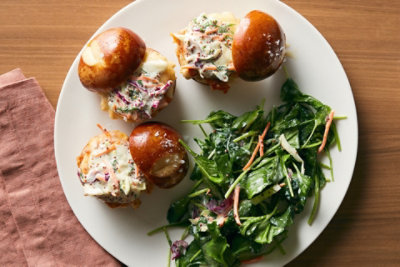 Chicken Pretzel Sliders with White Cheddar and Crunchy Dill Slaw
Chef Shanna packs layer upon layer of flavor into these mini chicken burgers. She blends ground chicken with garlic and Worcestershire sauce for meatier, more savory flavor. Gooey white Cheddar is piled on during cooking so it gets perfectly melty by the time the burgers are ready. A tangy, crunchy slaw of creamy mustard, dill pickle, fresh dill, and cabbage is piled on top of the burgers, which are sandwiched between toasted pretzel buns.
Total original price
* Estimated price based on adding all ingredients to cart.
Main Ingredients
12 pretzel slider buns
5 ounces baby arugula
1/4 ounce dill
1 lemon
1/2 cup sliced dill pickles
2 cloves garlic
2 tablespoons Worcestershire sauce
1 1/2 pounds ground chicken
4 ounces shredded white Cheddar cheese
1/4 cup whole-grain mustard
4 ounces mayonnaise
1/2 cup shredded green cabbage
1/2 cup shredded red cabbage
1/2 cup shredded carrots
olive oil
kosher salt
black pepper
Cooking Instructions
Step 1
Slice pretzel buns open horizontally, if they arrived whole. Rinse all produce. Pat arugula dry with paper towel. Roughly chop dill leaves, discarding stems. Halve lemon. Roughly chop pickles and place in a large bowl for Step 5. Mince garlic.
Step 2
In a separate large bowl, combine Worcestershire sauce, garlic, 1 teaspoon salt, and pepper, then add chicken (see recipe tip). Using your hands, mix well, then form into 12 equal patties, about 1.5 inches thick. Using your thumb, create a dimple on top of each (see recipe tip). Place sliders on a plate, cover with plastic wrap, and chill in refrigerator until Step 4 (this will help them hold their shape as they cook).
Step 3
Place a large pan over medium heat. Carefully hover your hand a few inches away—when you can easily feel heat, add pretzel buns cut-side down in a single layer. Toast, working in batches as needed, until light golden and warmed through, about 2 minutes. Remove pan from heat. Wrap buns in foil to keep warm, reserving pan for the next step.
Step 4
Heat 2 tablespoons olive oil in in pan from buns over medium-high heat. When oil is shimmering, add chicken sliders. Sear, without flipping, working in batches as needed, until browned on bottom, 3-4 minutes. Flip and continue searing until browned and medium rare, 2-3 minutes. Top with white Cheddar, cover pan, and cook until cheese is melted, 1-2 minutes more. Remove pan from heat.
Step 5
While sliders cook, to large bowl with pickles, add mustard, mayonnaise, dill, .5 teaspoon salt, and pepper as desired; stir to combine. Add slaw mix and toss to coat.
Step 6
Transfer pretzel buns to serving plates. Add chicken sliders to bun bottoms, top with a spoonful of slaw, and finish with bun tops to close sliders. To bowl with remaining slaw, add arugula, juice of .5 lemon, and 1 tablespoon olive oil (save remaining lemon to brighten a glass of water). Toss salad to coat, then serve with chicken pretzel sliders. Enjoy!
All recipe ingredients should be cooked to a safe internal temperature according to USDA guidelines. After preparing a recipe, please store any leftovers in the refrigerator.