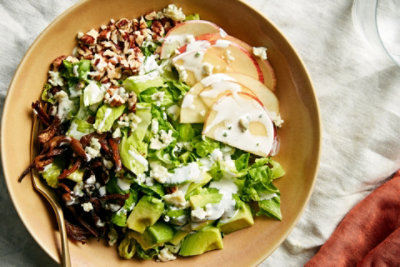 Fall Cobb Salad with Apples, Pecans, and Crispy Mushrooms
Not only are they filling and flavorful, Cobb salads are also a treat to look at (and eat!). We couldn't resist adding an autumnal twist to this American classic, throwing seasonally perfect Gala apples and toasted pecans into the mix along with smoky, crispy, mushroom "bacon". And, because some things (like Cobb salad) are sacred, we've kept the staples: crunchy romaine, blue cheese, ranch dressing, and avocado.
Total original price
* Estimated price based on adding all ingredients to cart.
Main Ingredients
1 pound oyster mushrooms
4 romaine hearts
2 Gala apples
1/4 ounce chives
1 teaspoon smoked paprika
2 teaspoons smoked sea salt
1 1/2 tablespoons dark brown sugar
4 ounces mayonnaise
1/2 cup buttermilk
5 3/10 oz cups nonfat Greek yogurt
1/2 cup chopped pecans
2 avocados
3 ounces crumbled blue cheese
canola oil
kosher salt
black pepper
Cooking Instructions
Step 1
Preheat oven to 425°F (see Recipe Tip). Remove and discard mushroom stems, then wipe caps clean with a damp paper towel and cut into .25-inch slices (see Recipe Tip). Halve romaine hearts lengthwise and rinse thoroughly, then thinly slice leaves crosswise, discarding tough stems. Rinse apples and slice off rounded sides, discarding cores, then thinly slice. Rinse chives and thinly slice.
Step 2
Line 2 baking sheets with foil. In a large bowl, whisk together spice mix and 3 tablespoons canola oil. Add mushrooms to bowl with spiced oil and toss to coat, then divide between prepared baking sheets. Arrange in a single layer, spacing apart as much as possible, and roast until browned, 25-28 minutes. Meanwhile, wipe bowl from mushrooms clean for the next step.
Step 3
Add mayonnaise, buttermilk, Chobani yogurt, chives, .25 teaspoon salt, and pepper as desired to bowl from mushrooms. Whisk to fully combine. Transfer .25 cup dressing to a small bowl and reserve for Step 6. Pat romaine dry with paper towel, add to large bowl with remaining dressing, and toss to coat. Set aside until ready to serve.
Step 4
Use any remaining downtime while you wait for the mushrooms to roast to set the table. After 25-28 minutes of mushrooms roasting, arrange pecans on a separate baking sheet, then transfer to oven (with mushrooms). Roast until pecans are toasted and mushrooms are crispy, about 3 minutes more. Set aside to cool slightly.
Step 5
While pecans toast, halve avocados and discard pits. Using a spoon, carefully scoop out flesh, discarding skins. Cut into .25-inch pieces.
Step 6
Divide dressed romaine among serving bowls and top with sections of crispy mushrooms, apples, toasted pecans, and avocado. Garnish with blue cheese, and drizzle over reserved Greek yogurt ranch. Dig in!
All recipe ingredients should be cooked to a safe internal temperature according to USDA guidelines. After preparing a recipe, please store any leftovers in the refrigerator.