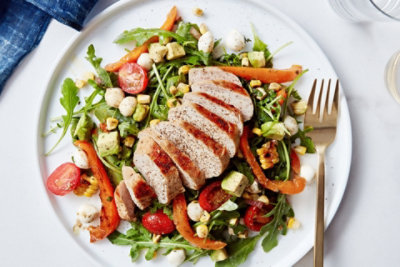 Grilled Chicken with Charred Summer Vegetables and Mozzarella
We can't stop gushing about what a perfect time this is for grilling, especially with the season's bountiful, colorful produce. This hearty salad marries some of our favorite grill-friendly ingredients—chicken breasts, corn on the cob, bell pepper—with simple Italian flavors. A quick dressing of balsamic vinegar, olive oil, and basil pesto creates bright contrast for the grill's smoky char.
Total original price
* Estimated price based on adding all ingredients to cart.
Main Ingredients
2 ears corns
2 orange bell peppers
1 pint grape tomatoes
1/2 ounce basil
1 shallot
3 tablespoons balsamic vinegar
1 tablespoon pesto
4 boneless skinless chicken breasts
1 avocado
8 ounces baby arugula
8 ounces mozzarella pearls
1/2 cup + 1 tablespoon olive oil
kosher salt
black pepper
Cooking Instructions
Step 1
Preheat grill to medium heat (see Recipe Tip). Shuck corn, discarding husk and silk. Rinse remaining produce. Halve bell peppers lengthwise, discarding seeds and stem. Halve tomatoes. Finely chop basil leaves, discarding stems, and place in a large bowl. Peel shallot, mince, and add to bowl with basil.
Step 2
Add balsamic vinegar, pesto, .25 teaspoon salt, and black pepper as desired to bowl with shallot and basil, and whisk to combine. Whisking continuously, slowly add .33 cup olive oil until fully combined.
Step 3
If using a grill pan, place over medium heat now. Rub corn and bell peppers all over with 2 tablespoons olive oil, .5 teaspoon salt, and black pepper. When grill is just smoking, add corn and cook, rotating occasionally, until bright yellow and charred in spots, about 12 minutes total. Add bell peppers skin-side down and cook until charred and softened, 3 minutes per side. Transfer vegetables to a plate and set aside.
Step 4
Pat chicken dry with paper towel and rub all over with 1.5 tablespoons olive oil, 1 teaspoon salt, and black pepper as desired. Add chicken to grill and cook until lightly charred, cooked through, and no longer pink, about 4 minutes per side. Transfer to a plate and cover with foil to keep warm.
Step 5
Halve avocado and discard pit. Using a spoon, carefully scoop out flesh, discarding skin. Cut into small dice and add to bowl with dressing. Slice corn kernels off cobs into bowl with avocado. Cut bell peppers lengthwise into .25-inch strips and add to bowl with corn and avocado.
Step 6
Add arugula, mozzarella, and tomatoes to bowl with vegetables, toss to combine, and divide among serving plates. Cut grilled chicken into .25-inch slices and serve over salad. Dig in!
All recipe ingredients should be cooked to a safe internal temperature according to USDA guidelines. After preparing a recipe, please store any leftovers in the refrigerator.