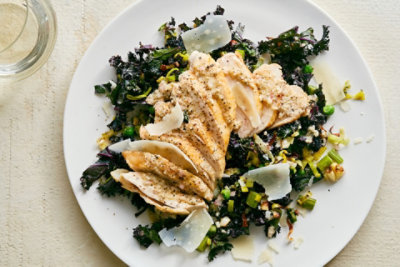 Pan-Roasted Chicken with Roasted Spring Vegetables and Cacio e Pepe Vinaigrette
We can never resist the cheesy, peppery flavors of cacio e pepe, but sometimes we're not up for the indulgent pasta dish. Here, we're flavoring a vinaigrette with Parmesan cheese and cracked black peppercorns, then drizzling it over an enticing dish of pan-roasted chicken with an asparagus, pea, and kale salad. 
Total original price
* Estimated price based on adding all ingredients to cart.
Main Ingredients
3 leeks
8 ounces asparagus
8 ounces red kale
1 lemon
2 shallots
4 boneless chicken breasts
1/2 cup peas
1 teaspoon cracked black peppercorns
3 tablespoons white wine vinegar
2 ounces grated Parmesan cheese
2 ounces shaved Parmesan cheese
olive oil
kosher salt
black pepper
Cooking Instructions
Step 1
Preheat oven to 425F. If leeks arrived with dark green tops, trim and discard them. Halve leeks lengthwise and thinly slice crosswise, then place in a bowl of cold water, separating pieces, to let dirt sink to bottom. Rinse asparagus and trim and discard woody bottoms, then cut crosswise into .5-inch pieces. Rinse kale, stack leaves, and thinly slice, discarding long stems. Halve lemon. Peel shallots and mince.
Step 2
Pat chicken dry with paper towel. Heat a large pan over medium heat. Carefully hover your hand a few inches away—when you can easily feel heat, add chicken skin-side down, working in batches as needed (see recipe tip). Sear until skin is golden and easily lifts from pan, 8-9 minutes. Flip and sear opposite side until cooked through and no longer pink, about 7 minutes more. Transfer chicken to a plate, skin-side up. Set aside to rest.
Step 3
While chicken cooks, using a slotted spoon or your hands, remove leeks from water (do not drain leeks, or the dirt at the bottom will pour over them). On a baking sheet, toss leeks and asparagus with 1.5 tablespoons olive oil, .75 teaspoon salt, and ground black pepper as desired (see recipe tip). Arrange in a single layer and roast until almost tender, about 10 minutes. Scatter over peas and continue roasting to warm through, 3 minutes more.
Step 4
While vegetables roast, in a medium bowl, whisk together cracked black peppercorns, white wine vinegar, shallots (or use half for milder flavor), juice of .5 lemon, and .5 teaspoon salt. Whisking continuously, slowly add .25 cup olive oil to fully combine, then gently stir in grated Parmesan. Use remaining lemon to brighten a glass of water.
Step 5
In a large bowl, combine kale and roasted vegetables. Drizzle over half of cacio e pepe vinaigrette and toss to coat. Cut rested chicken into .25-inch slices.
Step 6
Divide roasted spring vegetable salad among serving plates, top with pan-roasted chicken, and drizzle over remaining cacio e pepe vinaigrette. Garnish with shaved Parmesan and dig in!
All recipe ingredients should be cooked to a safe internal temperature according to USDA guidelines. After preparing a recipe, please store any leftovers in the refrigerator.