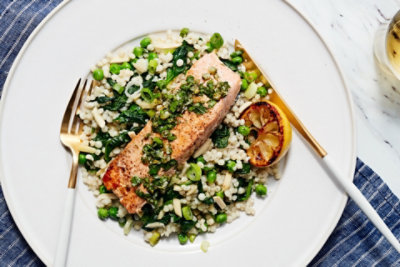 Salmon with Salsa Verde and Israeli Couscous
Chef Elana's condiment obsession runs deep, and by deep, we mean that she named our meeting rooms after iconic international sauces! She especially loves Mediterranean salsa verde, the deep-green sauce featured here, for its impressive balance of fresh parsley, tangy capers, and garlic. It easily cuts through the richness of seared salmon, served over a tender bed of couscous, almonds, and sautéed vegetables.
Total original price
* Estimated price based on adding all ingredients to cart.
Main Ingredients
1 ounce parsley
2 scallions
1/2 tablespoon capers
3 cornichons
2 lemons
2 cloves garlic
2 cups Israeli couscous
2 tablespoons white wine vinegar
8 ounces baby spinach
1 cup peas
1/4 cup slivered almonds
1 1/4 pounds salmon
1/2 cup + .5 tablespoon olive oil
kosher salt
black pepper
Cooking Instructions
Step 1
Bring a medium pot of water to a boil over high heat. Rinse all produce. Finely chop parsley leaves, discarding stems. Trim and discard scallion roots, then thinly slice. Finely chop capers and cornichons. Halve lemons. Mince garlic and, still on cutting board, sprinkle over .125 teaspoon salt. Using a large knife, carefully scrape over mixture at a 45° angle, pressing down. Repeat until garlic is broken down and a paste forms (see Recipe Tip).
Step 2
Season boiling water generously with salt. Stir in couscous and cook until tender, about 8 minutes. Drain and return to pot, off heat. Stir in 1.5 tablespoons olive oil to coat (this prevents the grains from sticking), then set aside.
Step 3
While couscous cooks, in a medium bowl, stir together white wine vinegar, parsley, capers, cornichons, garlic paste, juice of 1 lemon, .25 cup olive oil, .125 teaspoon salt, and pepper as desired to combine. Set aside until ready to serve.
Step 4
Heat 1 tablespoon olive oil in a large nonstick pan over medium heat. When oil is shimmering, add spinach and peas and cook, stirring, to wilt spinach, about 4 minutes. Transfer vegetables to pot with couscous, reserving pan for searing salmon. Add almonds, scallions, .5 teaspoon salt, and pepper to pot with couscous and vegetables. Stir to combine, then set aside. Pat salmon dry with paper towel and season all over with .75 teaspoon salt and pepper.
Step 5
Return pan from vegetables to medium heat with 2 tablespoons olive oil. When oil is shimmering, add salmon skin-side down and remaining lemon cut-side down (see Recipe Tip). Sear together until salmon is golden on bottom, 5 minutes. Then, flip salmon and cover, keeping lid slightly ajar so steam can escape. Sear until salmon is opaque and lemon is slightly charred, 3-5 minutes more.
Step 6
Divide Israeli couscous among serving plates and top with salmon and salsa verde. Cut charred lemon into wedges for squeezing over. Dig in!
All recipe ingredients should be cooked to a safe internal temperature according to USDA guidelines. After preparing a recipe, please store any leftovers in the refrigerator.