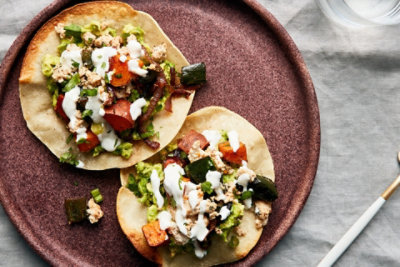 Turkey, Sweet Potato, and Poblano Tostadas with Lime Crema and Avocado
In our, ahem, extensive research, we've come to the conclusion that tostadas are the perfect vehicle for pretty much anything. Here, we're topping crispy, pan-fried tortillas with ground turkey, seasonal sweet potato, and mild poblano chile. The result is, unsurprisingly, totally addictive. Finished with a drizzle of lime crema and refreshing cilantro, this dinner tastes as amazing as it looks.
Total original price
* Estimated price based on adding all ingredients to cart.
Main Ingredients
2 sweet potatoes
1/4 ounce cilantro
1/4 ounce sage
1/4 ounce thyme
3 scallions
1 red onion
2 poblano chiles
1 teaspoon ancho chile powder
1 teaspoon ground cumin
1 1/2 pounds ground turkey
2 avocados
2 limes
4 ounces nonfat sour cream
8 corn tortillas
canola oil
olive oil
1/4 cup pale ale or pilsner-style beer
kosher salt
black pepper
Cooking Instructions
Step 1
Preheat oven to 450°F. Rinse all produce. Cut sweet potatoes into .5-inch dice. Roughly chop cilantro leaves, finely chop sage leaves, and strip thyme leaves, keeping separate and discarding stems. Trim and discard scallion roots and thinly slice. Peel onion, halve, and thinly slice. Halve poblanos lengthwise; using a knife tip, discard seeds and stems, then cut into .5-inch pieces. (Wash your knife, board, and hands after cutting spicy chiles.)
Step 2
On a baking sheet, toss sweet potatoes, onion, and poblanos with spice mix, 3 tablespoons olive oil, .75 teaspoon salt, and pepper as desired, then transfer half to a separate baking sheet. Arrange in a single layer and roast until vegetables are tender and slightly browned, 20-22 minutes.
Step 3
While vegetables roast, heat 2 tablespoons olive oil in a large pan over medium-high heat. Add turkey, sage, thyme, .5 teaspoon salt, and pepper as desired. Cook, breaking up meat, until browned, about 5 minutes. Add .25 cup water (or beer if you have it, see Recipe Tip). Cook, scraping up browned bits from bottom of pan, about 1 minute. Remove pan from heat and set aside until vegetables have finished roasting.
Step 4
Halve avocados and discard pits. Using a spoon, carefully scoop out flesh into a medium bowl, discarding skins. Season with .25 teaspoon salt and pepper as desired. Using a fork, mash until mostly smooth. Halve limes. In a small bowl, stir together sour cream, juice of 1.5 limes, and .25 teaspoon salt until fully combined. Set both bowls aside until ready to serve. Use remaining lime to brighten a glass of water.
Step 5
Heat 2 tablespoons canola oil in a separate large pan over medium-high heat. When oil is shimmering, add tortillas in a single layer and fry, working in batches as needed, until golden and crisp, 1-2 minutes per side. Transfer tostadas to a paper towel-lined plate to drain.
Step 6
When vegetables are done roasting, return pan with turkey to medium heat. Add roasted vegetables and stir to combine, then stir in scallions and half of cilantro. Divide tostadas among serving plates and spread with avocado mash. Spoon over turkey topping and drizzle over lime crema. Garnish with remaining cilantro, and dig in!
All recipe ingredients should be cooked to a safe internal temperature according to USDA guidelines. After preparing a recipe, please store any leftovers in the refrigerator.