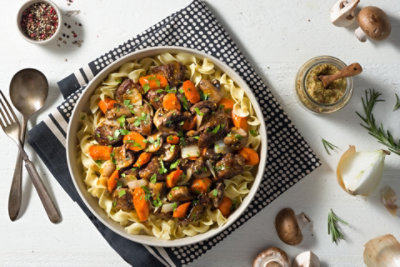 Country Dijon Beef Stew
This stovetop-simmered classic mingles browned beef with mushrooms and rosemary in a mustardy gravy.
1 hour, 30 mins
Total cook time
Total original price
* Estimated price based on adding all ingredients to cart.
Main Ingredients
1 tablespoon unsalted butter,
1 small onion, chopped,
8 ounces (about 2 cups) mushrooms, cleaned, trimmed and quartered,
2 pounds boneless beef chuck, trimmed and cut into 1-inch chunks,
4 tablespoons all-purpose flour, , divided
2 tablespoons olive oil, , divided
1 14.5-ounce can low-sodium beef broth, , divided
1 tablespoon Worcestershire sauce,
1 tablespoon country-style grainy Dijon mustard,
3 carrots, peeled and cut into 1/2-inch coins,
2 tablespoons water,
1 teaspoon chopped fresh rosemary,
¼ teaspoon salt,
¼ teaspoon black pepper,
Cooked egg noodles (optional),
Cooking Instructions
Step 1
Heat butter in a large pot over medium heat. Add onion and mushrooms and cook for 5 minutes. Transfer to a bowl.
Step 2
Meanwhile, toss beef with 3 tablespoons flour. Add 1 tablespoon oil to the pot and increase heat to medium-high. Add half of the beef and cook for 2 minutes, browning on all sides. Transfer to the bowl with onions and mushrooms. Add the remaining 1 tablespoon oil and the rest of the beef to the pot. Cook for 2 minutes, browning on all sides. Transfer to bowl; reduce heat to medium.
Step 3
Add 3/4 cup broth to the pot. Whisk in Worcestershire and mustard, scraping up any brown bits on bottom of the pan. Add the beef and vegetable mixture back to the pot along with the remaining broth. Cover and simmer on low for 15 minutes.
Step 4
Uncover and stir in carrots. Cover and simmer for an additional 45 minutes. In a small bowl, stir together 2 tablespoons water, the remaining 1 tablespoon flour, rosemary, salt and pepper. Stir into stew and cook until thickened, about 3 minutes. Serve with noodles, if desired.
All recipe ingredients should be cooked to a safe internal temperature according to USDA guidelines. After preparing a recipe, please store any leftovers in the refrigerator.