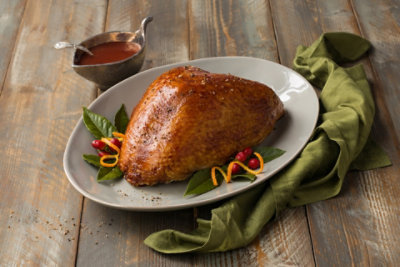 Cranberry & Maple Glazed Turkey Breast
Transform a classic favorite with festive flavors! With cranberry, maple, orange and cinnamon, this turkey recipe is perfect for the holiday season. With just 20 minutes of prep time, this recipe is also convenient when preparing a variety of dishes for a holiday meal.
2 hour, 5 mins
Total cook time
Total original price
* Estimated price based on adding all ingredients to cart.
Main Ingredients
7 pound whole, bone-in turkey breast
2 tablespoons olive oil
1 teaspoon kosher salt
1/2 teaspoon ground black pepper
14-ounce can jellied cranberry sauce
1/2 cup pure maple syrup
juice and zest of 1 orange
1/4 teaspoon ground cinnamon
1 tablespoon Dijon mustard
1 tablespoon apple cider vinegar
1/3 cup melted sweet cream butter
Cooking Instructions
Step 1
Wash and pat turkey breast dry. Brush with olive oil and season with salt and pepper. Let rest on counter.
Step 2
Preheat oven to 350°. In a medium sauce pan, whisk to combine remaining ingredients. Heat over medium-low until bubbling and warmed through. Divide glaze, reserving half for service.
Step 3
Spray rack in a roasting pan with non-stick cooking spray. Place turkey on rack and place in oven. Roast for 1 hour, then brush turkey with glaze. Continue cooking and basting every 10 minutes, until internal temperature of 160° is reached, about 20-40 minutes.
Step 4
Remove from oven and let rest for 15 minutes before carving. Serve.
Step 5 :: Helpful Hints
Don't skip resting the turkey before slicing. The juices raise to the outside of the meat during cooking and resting allows redistribution before slicing. Each bite will be moist and delicious.
Step 6 :: Helpful Hints
Use a thermometer to be sure proper temperature is reached when roasting any protein.
All recipe ingredients should be cooked to a safe internal temperature according to USDA guidelines. After preparing a recipe, please store any leftovers in the refrigerator.