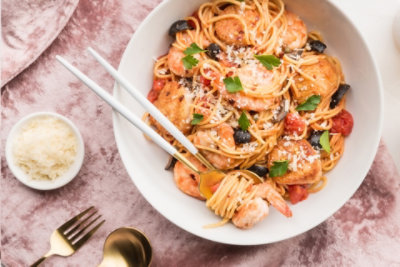 One Pan Seafood Puttanesca
Make your valentine think you're a master chef with this recipe that comes together quickly with delectable ingredients like garlic, capers, shrimp and scallops! Made in one pan, this simple recipe is perfect for the holiday.
Total original price
* Estimated price based on adding all ingredients to cart.
Main Ingredients
3 tablespoons olive oil
1/2 teaspoon kosher salt
1/3 pound raw shrimp, shelled and deveined
1/3 pound raw scallops, side muscle removed
2 cloves garlic, finely chopped
2 anchovy fillets, finely chopped
1/4 teaspoon red pepper flakes
1 15-ounce can diced tomatoes
2 cups low sodium chicken broth
8 ounces dry spaghetti
2 cloves garlic, finely chopped
1 teaspoon coarsely-chopped capers
Optional Garnish
minced parsley
grated parmesan cheese
Cooking Instructions
Step 1
Heat the oil over medium high heat in a large sauté pan until shimmering. Season shrimp and scallops with salt and add to pan. Sauté for 2-3 minutes each side until shrimp turns pink and scallops are well caramelized. Remove from pan and place in a covered dish.
Step 2
Add the garlic, anchovy, and pepper flakes stirring constantly until fragrant, about 1 minute. Add tomatoes and chicken stock. Bring to a boil.
Step 3
Reduce the heat to medium low and add spaghetti. Simmer uncovered, stirring occasionally, until the pasta is al dente and the sauce thickens and clings to it, about 9-10 minutes. Add the shrimp, scallops, olives, and capers, and toss to combine. Heat through for 1-2 minutes. Serve.
Step 4 :: Helpful Hints
Wash and drain the shrimp and scallops thoroughly. Dry with paper towels. The dryer the surface, the more caramelization (and flavor) builds.
Step 5 :: Helpful Hints
For an extra rich sauce, deglaze the pan with a 1/4 cup of white wine after adding the garlic, anchovy and red pepper flakes.
Step 6 :: Helpful Hints
Green olives or black olives? Doesn't matter! Use your favorite--or a bit of both!
Step 7 :: Helpful Hints
Don't own a large sauté pan? Use a 4-quart Dutch oven instead.
All recipe ingredients should be cooked to a safe internal temperature according to USDA guidelines. After preparing a recipe, please store any leftovers in the refrigerator.