Coupons and Deals
Digital Coupons
Hundreds of coupons
at your fingertips
Personalized Deals
Special deals on
items you buy
FREE items
Available exclusively
to members
Rewards
Earn points while you shop
Grocery & Pharmacy
Earn 1 point for every $1 you spend*
Gift Card
Earn 2 points for every $1 you spend*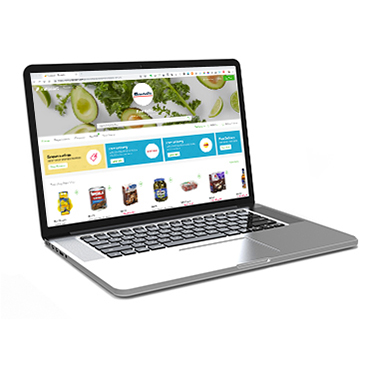 Try Our NEW Rush Delivery Service
when you shop Randalls Rush Delivery**

Earn 1 Reward on every Rush Delivery transaction when you enter your registered phone number at checkout.
Shop Now
Redeem your rewards for discounts on gas or groceries
1 Reward = 10¢ OFF per/gal
Redeem for up to
FREE Groceries
Add Reward offers online to get free grocery items or cash discounts on your basket
View All Offers
* One point will be awarded for each whole dollar spent on eligible purchases (for example, if you spend $5.25 in a participating Albertsons Banner store using your Club Card, you will earn 5 points). Each 100 points earned is converted into one Reward. Remaining point totals less than 100 at the end of a calendar month expire. Each Reward may be redeemed for Grocery Rewards (as described below) offered in your just for U account or for Gas Rewards (1 Reward = 10¢ per off gallon), provided that in no event will the final fuel price be less than $0.01 per gallon. Gas Rewards and Grocery Rewards earned during each calendar month may be used only until the end of the following calendar month, after which such Rewards expire (Rewards earned in January, for example, expire at the end of February). Gas Reward savings in a single transaction are limited (i) to 25 gallons (20 gallons in Jewel-Osco) for one vehicle per transaction—subject to rounding for applicable in-store fuel transactions, and (ii) to the maximum per-gallon Gas Reward discounts set forth above. In order to use Gas Rewards, you must establish eligibility before pumping fuel. Gas Rewards will be available for use at participating fuel retailers approximately one hour after being earned. Gas Rewards may only be redeemed at Participating Fuel Stations.

Grocery Rewards may be used only in the stores that offer such rewards (for example, if offered by our Southern California Vons stores, Grocery Rewards items must be redeemed and picked up at Vons locations in Southern California). Once you elect to apply earned Rewards towards a Grocery Rewards offer and confirm your selection, the applicable Rewards are deducted from your Account and cannot be used for another Grocery Reward offer or for Gas Rewards, or be reinstated in any way. There may be a lag between the time when you redeem your Rewards and when your Rewards balance is updated. Attempting to reuse Rewards that have already been applied may result in a negative Rewards balance until you accumulate enough Rewards to eliminate such deficit. You may claim your redeemed Grocery Rewards item through the end of the following calendar month (for example, Grocery Rewards items redeemed and confirmed in April are available to pick up through the end of May). See full program details in the Albertsons Companies Banner stores' mobile apps.

Eligible purchases exclude: (1) beer, wine and tobacco (and spirits in certain states); (2) fuel and automotive services; (3) bus passes, commuter passes, fishing or hunting licenses, ski passes, postage stamps, lottery tickets, amusement park passes, and event tickets; (4) any financial instrument that can be redeemed for goods or services at participating Albertsons Companies Banner stores - including (but not limited to) gift certificates, money orders, and gift or debit cards issued by American Express®, MasterCard®, Visa®, NetSpend®; (5) mobile phone cards; (6) all fuel partner gift cards; and (7) all fluid items in the refrigerated dairy section—including fluid dairy substitutes. Sales tax payments and redemption value deposits are not purchases and are not eligible to earn points. Only out-of-pocket pharmacy costs (for example, prescription co-pays) are eligible to earn points. All trademarks are property of their respective owners and are used with permission. Program may be discontinued or changed at any time without notice. Void or subject to restrictions based upon applicable law.